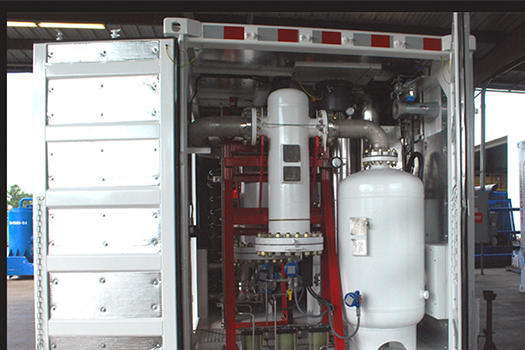 HVM ASME, PED & CRN Standard & Custom Built Cyclone Separators
HVM Cyclone Separators effectively remove up to 99% of condensed liquid and other contaminants, such as pipe scale and rust, from an air or gas streams. Use of a Cyclone separator reduces maintenance and downtime of downstream equipment.
Housing Features:
Moisture Separators in Carbon and Stainless Steel.
7 standard sizes available from 1" to 8" diameter.
Flow Rates up to 2,100 scfm plus @ 100 psig.
Certifications to ASME and/or PED.
Various Applications.
Standard or Custom Built.
Easy to install.
Maximum Recommended Operating Temperature: 150° F.
Minimum Recommended Operating Temperature: 35° F.
Benefits of Using HVM Seperators:
99% Efficient
Low Maintenance
Cost Effective
High Flow Rate
Very Low Differential Pressure
Automatic Drain
Removes Rust And Pipe Scale
High Efficiency At Reduced Flows
Model
Pipe Size (in.)
Flow Rates @ 100 PSIG (SCFM)
Weight (lbs)
HVM-CS-1-XX
1"
159
2.5
HVM-CS-1.5-XX
1 1/2"
318
6
HVM-CS-2-XX
2"
742
13
HVM-CS-2.5-XX
2 1/2"
1,470
28
HVM-CS-3-XX
3"
1,695
28
HVM-CS-4-XX
4"
2,100
90
*Contact HVM for larger and custom sizes.
Substitute the corresponding material type and element type where appropriate:
XX - CS for Carbon Steel
XX - SS for Stainless Steel
Pressure Conversion Factors
Line Pressure (PSIG)
15
44
73
100
131
160
189
218
232
Correction Factor
0.5
0.71
0.87
1
1.12
1.22
1.32
1.41
1.56